111 Henry W Dubois Dr, New Paltz, NY 12561
New Paltz Self Storage Facility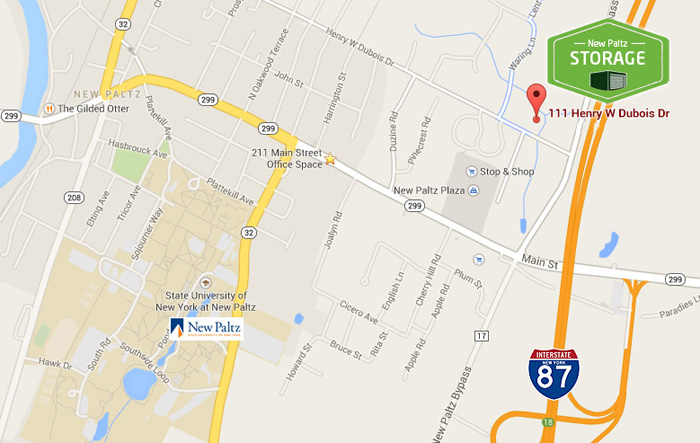 We have the best rates in town!
| | |
| --- | --- |
| Size | Monthly Rate |
| 5x10 (50 sq ft) | $125 |
| 10x10 (100 sq ft) | $180 |
| 10x15 (150 sq ft) | $255 |
| 10x20 (200 sq ft) | $320 |
| 12x30 (360 sq ft) | $415 |
| 15x30 (450 sq ft) | $475 |
Sign up for our Wait List and be the first to know.
Email us at
office@newpaltzstorage.com
and include your name and phone number and we will contact you as soon as space becomes avaialble.
Features
24x7x365 Access - No lockout times. Access your unit all day and night, early or late.
Drive Up Ground Level - Every unit is on ground level. No steps, no hallways. Just drive up to your unit and load it up.
Month to Month - No long term contracts. Every unit is rented month to month and rent is due on the 1st.
Auto Payments - Never forget another payment. We automatically charge your credit/debit card or eCheck directly from your bank account. It is easy and if anything goes wrong, we'll give you a call, send you an email, or text your cell phone.
Great Location - We are less than a mile away from SUNY New Paltz. From SUNY's main entrance, take 32N and continue straight to N Manheim Blvd, then take your right onto Henry W Dubois Dr. We are 0.5 miles on the left.
Newly Renovated - Our New Paltz storage facility is clean, safe and dry.
Safe and Secure - Our facility is right next door to the New Paltz Fire Department and New Paltz Police Headquarters. We have security cameras, access control and lighting.
SUNY Students
Our facility is a great option for students of the State University of New York at New Paltz (
SUNY New Paltz
). Students often need a place to store their items during the summer months from May to August. Typically, a student will only need a small unit 5x10. Most small storage units are sold out during this time. We start to get calls in March and April to be added to our waiting list. Don't delay, call us or email at
office@newpaltzstorage.com
as early as possible to be added to our waiting list. Please let us know the size you need and the approximate dates. We rent by the month so exact dates do not matter.
How to Contact Us
For general questions and space availability, please email us at
office@newpaltzstorage.com
. You can also call us at 845-255-STORAGE. That's 845-255-7867.
New Paltz Storage LLC
PO BOX 699
New Paltz, NY 12561
Greater New Paltz Area
Our self-storage facility is easily accessible from Rosendale, Highland, Gardiner, Tillson and all of Ulster County. New Paltz is equal distance from Kingston, Newburgh and Poughkeepsie. Click here for a
map of the area
.